"Sage 100 has Stopped Working" or "MAS has Stopped Working"
Sage 100 is highly accessible accounting software to provide comprehensive solution to your accounting needs that ensures accomplishment of overall financial tasks within the time frame. However, there becomes certain reasons due to which your software faces many errors within itself and therefore may also cause loss in your accounting world. Here are some of the errors that your accounting software can face and it is very important that you get in touch with our Sage 100 support team to get issues resolved.
"Sage 100 ERP has Stopped Working"
"Sage 100 Has Stopped Working"
"MAS has Stopped Working"
MAS has stopped working error usually occurs with Sage 100 only. You may face this at various tasks with the help of data recording or some printing issues.
Common Causes of Sage 100 Errors
Printer Access: Not Authorized
Software doesn't support Operation System
Other applications interfere with Sage 100 working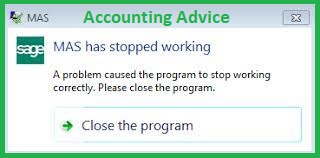 Sage "MAS Has Stopped Working" – How to Fix it and Procedure?
To handle Sage 100 software MAS issue effectively, you need to try to follow the set of instruction and approach in the pattern as they are mentioned below.
Related article: How to Install Sage 100 PDF Converter
Check validity of printer with individual systems and workstation. Make sure that your printer shows ready status.
For workstations, check matrix for support platform.
Make sure you shut down all other program that are running in the back.
Check and Adjust DEP Settings (Data Execution Prevention) in Sage 100.
Now, open Admin Command prompt

Here, you need to check the title display as Administrator: Command Prompt

Enter the command as they are mentioned:

exe/set nxAlwaysOff
Once you enter the command, you will get this response.
"The operation completed successfully."
To make the settings effective, you need to restart your system.

Now, exit from Sage 100 software. In the software, make sure you rename the mentioned-below files to the Server, in "..\MAS90\MAS_SYSTEM"
There can be one more probable reason for MAS has stopped working is when user tries to print a specific document from printer. The user receives the message, under which, the printer might be inaccessible or not available in the computer that hosts Sage 100. Here are two common examples of the cause:
Also Read: How to Import & Export Sage 100 Intelligence Reports
The printer's driver could be uninstalled or deleted from the computer that hosts Sage 100.
Another user access the report which is located in some other computer. This may contain specific printer that might not be given permission to access the hosting computer.
Contact for Sage 100 Help!
The above-mentioned solution will help you in getting your issue Sage 100 Error resolved. In case, the error still persists into your software, we suggest you get in touch with our Sage assistance team which can handle such errors/issues very intensively as they are efficiently and effectively trained for doing this. To let our team handle such difficult scenarios, user needs to connect with our Sage 100 team via our Toll-Free Number , Sage 100 Live Chat Support or via our Email Address.
Related Posts: