Sage Remote Data Access is Down
Sage Remote Data Access is a powerful tool that helps businesses manage their data remotely. However, if it goes down, your business can't work. In this blog post, we will show you how to fix Sage Remote Data Access if it goes down
The Sage Accounting software has indeed earned its rightful position as one of the most appreciated accounting platforms all over the world. All the software from Sage family are highly appreciated for their highly user-friendly interface & improved features. The Remote Data Access ( formerly Sage Drive) is one such important feature provided by Sage. By utilizing the resources given by the "cloud," this service is provided. This crucial function makes it possible for you to safely share data over the cloud. If you have an internet connection, it will allow you and your users the flexibility and power to work from any location.
However, many of our esteemed readers and users of Sage Remote Data Access have intimated to us that they have faced the 'Sage Remote Data Access Down' error message while trying to access data. You are in the right place if this problem bothers you as well. We WIll talk about how to resolve this frequent problem in this blog. Simply read this blog, follow the instructions, and put this issue behind you for good.
Here we go!
How to Resolve the Sage Remote Data Access is Down issue?
Here, we will let you know multiple methods to resolve this issue-
Method 1- Check if the main Site or the Remote Site has the Latest Data
If you work on both the main and remote sites, it is possible that one of these sites has data that has not been synchronized with the other sites. We advise you to check what the most recent activity is at each site, before picking which dataset you want to continue working on. This will help you make sure you are using the most recent batch of data before reconnecting to the Remote Data Access. When you have made up your mind, disconnect your company from Remote Data Access, then, before reconnecting your data to RDA, restore the backup you choose to keep using.
Read More-: How to Access Sage 50 Remotely
Method 2- Reconnect to Remote Data Access
Please follow the steps below to disconnect and reconnect to Remote Data Access-
A) Disconnect from a Remote Site
Open Sage 50cloud Accounts.
Go to the Company Selection window
Click on the 3 dots to the left of the company you want to disconnect.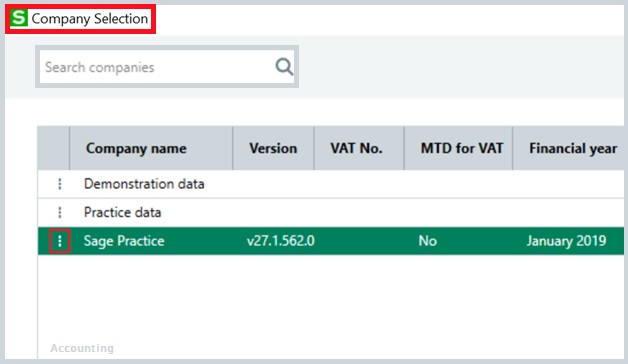 Click Remove Remote Data Access
Enter your logon name and password then click OK.
Click Yes then click OK.
B) Connect and Setup Remote Data Access
Open Sage 50cloud Accounts
Log in to your account as Manager.
Click on Settings
Now click on User Management
Click Users.
Click Manager
Tab on Edit.
If you are not connected to the Sage account related to this particular company, the option Get started with Sage Account will be displayed on your screen. Click this option to set it up. If you have already connected your Sage account, this option will not come up on your screen.
Click on the check-box named Allow Remote Data Access
Next, click on Continue.
Enter and confirm the passphrase. Remote users would use it when they connect to your data
Then click Save to proceed
If you are asked for, enter your Sage account Email id and Password
Click on Log in.
Your data will be now uploaded to the Remote Data Access.
When complete, click the Close button.
How can I Remove the Remote Data Access?
Here are the steps to follow-
Open Sage 50cloud Accounts.
Go to the Company Selection window
Click on the 3 dots to the left of the company you want to remove.

If you use Sage 50cloud Accounts v28, click Remove From Remote Data Access.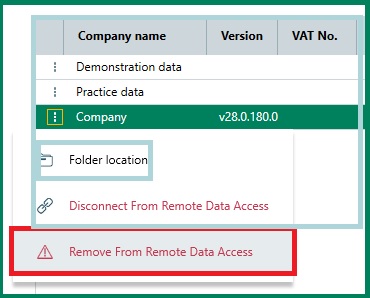 Enter the password for the manager logon name and click OK.
Click Yes then click OK.
Also Read-: How to Fix Sage Drive is Not Syncing
The Footnote:
We hope the troubleshooting steps mentioned above would help you a great deal to fix the 'Sage Remote Data Access Down' error on your machine. We advise you to get in touch with some knowledgeable Sage professionals 1800 964 3096 if you are having trouble implementing the above instructions and are still unable to fix the problem.
Accounting Professionals & Specialized Experts
Want quick help from accounting software experts? Get in touch with our team members who can install, configure and configure your software for you. Proficient in fixing technical issues, they can help you quickly get back to work whenever you encounter an error in Sage software. Our team is available 24/7 365 days to assist you. To get in touch.
💠Frequently Asked Questions💠
What are the benefits of the Remote Data Access (RDA) in Sage 50?
Some important benefits of RDA are listed below-
🔹 Facilitates both home and remote working.
🔹 Provides faster access to information even in the non-working hours 
🔹 You do not need to keep backups
🔹 You can invite your accountants as separate users, to adjust balances and perform other specialized tasks as and when needed. All these you can do without causing any disruption to the other users currently logged in.
🔹 Sage can be installed on multiple PCs. Thus, you do not have to depend only on one system anymore
What are the System requirements to meet if I want to use the Remote Data Access?
The following requirements should be met with –
🔹 Internet Connection – All the sites should be having a minimum of 2Mbps upload Speed and 4Mbps download speed. A Wireless Internet connection is not recommended at all. If you are using Windows 10, check the network speed by using the Network Speed Test from the Start menu. You can also check the speed on online sites such as www.speedtest.net
🔹 Version Numbers – All the computers should have the same Sage 50 Accounts version number. Also, they should have the latest updates installed. Sage 50cloud Accounts v27 or above is a must.
Here are the steps to follow-
🔹 Stop the Sage Accounts Data Service
🔹 Press the Windows key + R keys simultaneously 
🔹 On the run menu, type ipconfig /flushdns 
🔹 Click on OK. 
🔹 Start the Sage Accounts Data Service again
Can a user Recover his RDA Passphrase in Case he Forgets it?
A user must notify his manager or the data owner if he accidentally forgets his passphrase. This is viewable for the manager or data owner in Sage 50 Cloud Accounts. To view this, he should click the Remote Data Access Settings tab and then click on Show Password/Passphrase.
Related Posts