How to Change the Financial Year Start Date in Sage?
Formerly known as Simply Accounting, Sage 50 is a software system for accounting and company administration. It allows you to conduct a wide range of software activities, including adjusting the fiscal year's start date. During your first fiscal year, you have the option to adjust the start date. After that, you must modify the fiscal year end date, which will set the new fiscal year start date to the next day. However, there can be many reasons when the fiscal start date was entered is wrong or if your financial year changes and you need it to start at a different time, you must change the financial year start date in Sage Accounts. In this blog post, you'll learn how to change the Financial Year Start Date in Sage and other useful information related to it.
Prerequisite Must be Followed Before Making any Modifications:
Make a backup copy of your data (using a different company name) and then attempt changing the date. You're sailing if it works. If the first attempt fails, restore the backup and try again. When you've gotten what you want, go back to your good data set and repeat the process. Before you perform anything like this in a test environment or in production mode, be sure you have a backup of your data. After you've backed up your data, you might want to do so again. It's always useful to have a set of test questions on hand. Keeping them straight is all that matters.
Steps to Change the Financial Year Start Date:
You must set the financial year start date to the prior year when changing the financial year start date. Set the financial year to January 2020 if you want the new financial year to begin in January 2021.
Initially, click on the Settings >>> Financial Year and then click on the "Change" tab
Next, hit the "Yes" button to the prompt regarding backups and check data
Again, click "Yes" to the prompt regarding nominal historical data
After that, set the required financial year start month and year as you can see the above discussed example
Finally, click "Ok" >>> "Yes" >>> again "Ok" and then one more click "Ok".
Now, let's Know How to Shorten the Financial Year:

When you first install Sage Accounts, you'll be asked to enter the month and year in which your financial year begins. This financial year option is required, and once selected, your financial year will continue for 12 months from the day you enter as the start date.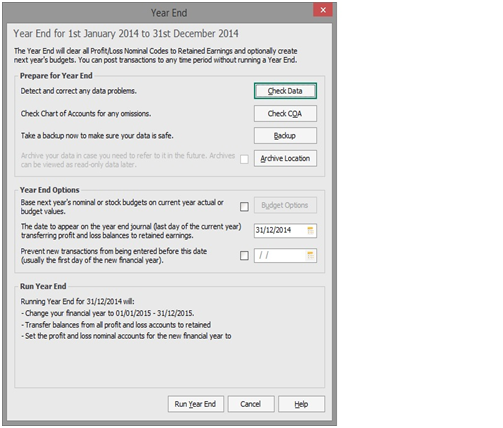 Because Sage Accounts can only have a 12-month financial year, if your financial year has changed and you need to shorten it, you must push the start date back to match the new end date.

Which Balances are Recalculated?
The following changes occur when you utilize the Financial Year option to change your financial year's start date:
The monthly nominal code balances are recalculated using the audit trail transactions.
Based on the transactions on your audit trail, your year-to-date turnover figures for your customers and suppliers are computed.
The product records' monthly sales amounts are revised depending on product transactions.
Related article: How to Change Fiscal year without adding Historical Transactions in Sage?
Run the Year End Reports to End of Shortened Period:
Run the reports for the end of the shortened financial year. Some common reports include:
Profit & Loss
Aged debaters
Trial balance
Aged creditors
Balance sheet
Run the Year End: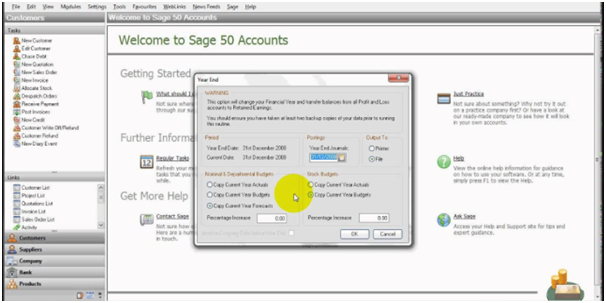 The profit and loss data are cleared up to and including the year end date.
The Financial Year Start Date is Advanced to the Needed Start Date:
Click on the Tools >>> Period End and then click on the "Year End"
Next, click on the "Check Data", if you have any data errors then you can fix them here and then click "Close"
Now, click on the "Check COA" option and then hit "Ok"
After that, click "Backup" and then click "Ok" and again click "Ok"
Leave the Archive checkbox selected, if you want to create an archive of your data
Select the Budgets checkbox to set up budgets for new Financial Year and then choose the budget option
Check the date is the year that you are closing
Enter a lock date if needed
Next, click "Run Year End" >>> "Yes" and then click "Ok"
At last, select how you want to output the report and then click the "Ok" button twice.
Also Read: Sage 50 US Payroll & Year-End Processing
Come to End!
Hopefully, the post has proved to be worthy for you while understanding 'How to Change the Financial Year Start Date in Sage'. Just in case, you are facing trouble while applying the steps to change the financial year start date and looking for assistance, get in touch with our professionals at Accountingadvice. We will try to provide you with immediate assistance or you can mail us at support@accountingadvice.co.
---
🔔 Frequently Asked Questions
Q1. How do I check that my financial year start date is correct in Sage?
Ans: Simply, go to the menu bar and then click Settings >>> Financial Year. Here, check out the date whether it is correct or not. If it is not correct then you must first correct it before continuing further.
Q2. What are the things you need to check before Year End in Sage?
Ans: There are few things you must check before the Financial Year End in Sage:
➤ Ensure that all outstanding transactions, including any adjustments from your accountant, have been posted.
➤ If you usually run at the end of the month, make sure you've done it this time.
➤ Copies of management reports, such as Profit and Loss and Balance Sheet, should be printed.
Q3. What are things that I should check after I finish the Financial Year end process in Sage?
Ans: First, click on the "Settings" and then "Financial year" to verify that the financial year is correct for the New Year:
➤ Next thing is to check your brought forward the Trial Balance
➤ Check your data
➤ Create another backup.
Related Posts:
Report Your Issue
(Didn't find what you were looking for! Report your issue and get customized help from our Sage experts.)