How to Convert QuickBooks File to Sage 50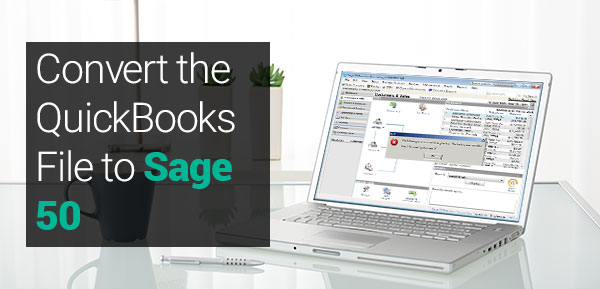 Sage is increasingly being used by mid-size and small industries for growing their business and making daily tasks easier. Any work related to finance and accounting become easier with Sage. It leads to more productivity as work finishes faster and in a more efficient way. Even a non-accounting person can understand and work on the Sage software. Therefore, in the recent past, Sage software's popularity is growing steadily.
However, every user of Sage might occasionally come across doubts or questions and may need the help of Sage 50 technical support team. Contact the Sage experts of Accounting Advice in that case. Their toll-free number is .
Let us discuss one such question that comes up while working on Sage.
QuickBooks File to Sage 50 Accounting file
Before going ahead with these advanced steps, take a data backup. Also, contact the Sage Tech support team to fully comprehend the situation. The highly trained Sage professionals will help you in following these steps in a way so that there is neither any damage to data or your system.
Let's talk about in particular how to convert the QuickBooks data to an existing Sage 50 Accounting file.
Resolution
Select and open your QuickBooks company file.
Select File, Utilities, Export, then Lists to IIF Files.
Select Vendors from the Export window
Press OK.
Keep a appropriate file name and keep it in a location that is known.
Select and open your QuickBooks company file.
Select and save all items one at a time. Customer List, vendor List and employees list are few of the regular import list files of Sage 50.
Keep your Sage 50 company file.
Be single user mode.
Next select File, Import/Export, then Import Records.
Press OK
Select Quickbooks.
Go to Next
Take a backup of the data before importing is essential.
Choose what all needs to be imported, related to what was saved from.
Then next go to location of your exported .IIF files from Quickbooks.
Choose all that apply in the same window.
Go to Next to begin the import process.
Press OK
Select Finish to accomplish the procedure.
For further doubts, please contact the Sage Peachtree customer support team at Accounting Advice for any kind of assistance.
What is Accounting Advice?
The Sage tech support team at Accounting Advice has Sage experts who have years of experience in resolving Sage related issues of users from around the world.  They can guide you at each step so that you don't make any mistake. If at any point of time, a Sage related question comes up in your mind, give a call right away to the extremely trained and experienced team at Accounting Advice. Their toll free number is .
Report Your Issue
(Didn't find what you were looking for! Report your issue and get customized help from our Sage experts.)