How to Convert QuickBooks File to Sage 50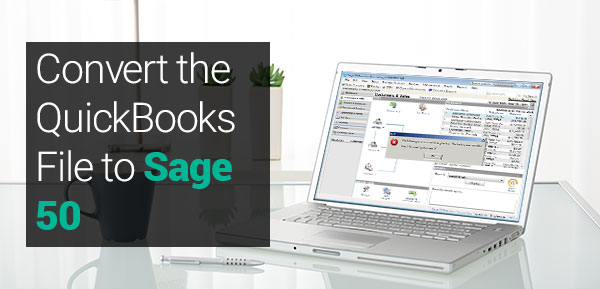 Sage is increasingly being used by mid-size and small industries for growing their business and making daily tasks easier. Any work related to finance and accounting become easier with Sage. It leads to more productivity as work finishes faster and in a more efficient way. Even a non-accounting person can understand and work on the Sage software. Therefore, in the recent past, Sage software's popularity is growing steadily.
However, every user of Sage might occasionally come across doubts or questions and may need the help of Sage 50 technical support team. Contact the Sage experts of Accounting Advice in that case. Their toll-free number is .
Let us discuss one such question that comes up while working on Sage.
QuickBooks File to Sage 50 Accounting file:
Before going ahead with these advanced steps, take a data backup. Also, contact the Sage Tech support team to fully comprehend the situation. The highly trained Sage professionals will help you in following these steps in a way so that there is neither any damage to data or your system.
Tip: Upgrade to the latest version of the Sage 50 software and save up to $50.
Let's talk about in particular how to convert the QuickBooks data to an existing Sage 50 Accounting file.
Steps to Convert QuickBooks Files to Sage 50
Select and open your QuickBooks company file.
Select File, Utilities, Export, then Lists to IIF Files.
Select Vendors from the Export window
Press OK.
Keep a appropriate file name and keep it in a location that is known.
Select and open your QuickBooks company file.
Select and save all items one at a time. Customer List, vendor List and employees list are few of the regular import list files of Sage 50.
Keep your Sage 50 company file.
Be single user mode.
Next select File, Import/Export, then Import Records.
Press OK
Select Quickbooks.
Go to Next
Take a backup of the data before importing is essential.
Choose what all needs to be imported, related to what was saved from.
Then next go to location of your exported .IIF files from Quickbooks.
Choose all that apply in the same window.
Go to Next to begin the import process.
Press OK
Select Finish to accomplish the procedure.
For further doubts, please contact the Sage Peachtree customer support team at Accounting Advice for any kind of assistance.
Final Words!
Above, you get to know why to convert QuickBooks to Sage 50 and how to convert your QuickBooks file to Sage 50. Follow the step by step instruction for successful conversion of data. If you have any issues then reach out the Sage customer helpdesk team as they are available 24/7 hours.

The members of the team are trained and professional so they better know how to resolve your problem. So just connect with the helpdesk team through Sage 50 live chat 24×7, send the email at support@accountingadvice.co, or dial a toll-free number.
---
Frequently Asked Questions
Q1. What can be Converted When you Convert a QuickBooks File to Sage 50?
Ans. The things that you can convert are:-
✔ Records- customers, vendors, jobs, accounts, employees, and inventory items
✔ Company Information- credit cards, budgets, and price lists.
Q2. Before Starting the Conversion what can be Done While Converting QuickBooks File to Sage 50?
Ans. ✔ Check that company file is set up accordingly
✔ Make sure to have a backup of the both software
✔ Verify everything before conversion
✔ Both software must be on same computer.
Q3. Can I do this With all Versions and to Any Version to Convert QuickBooks file to Sage 50?
Ans. Yes, you can convert any version and edition of QuickBooks file to the Sage 50 account. You must check that you cannot convert to the downgraded version. The data conversion can be done on the upgraded version. So you must check it before starting the conversion.
Related Posts:
Report Your Issue
(Didn't find what you were looking for! Report your issue and get customized help from our Sage experts.)