How to Import Export Sage 100 Intelligence Reports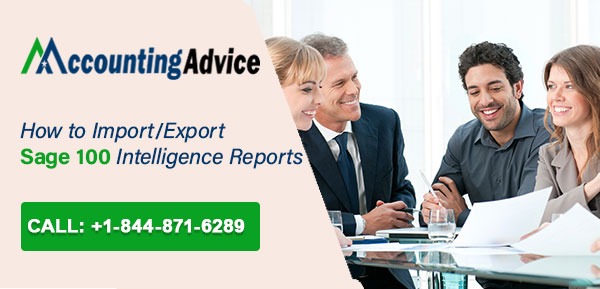 Sage 100 is an enterprise resource planning (ERP) software that is used by businesses to manage their finances, operations, and inventory. Sage 100 Intelligence is a reporting tool that is integrated with Sage 100 ERP. It allows users to create custom reports and analyze data from their Sage 100 system. Import and export Sage 100 Intelligence Reports can be useful for transferring reports between different installations of Sage 100 or for backup purposes.
Before you upgrade your Sage 100 Intelligence report you first need to export all applicable reports out of the previous Sage Intelligence installation and then import your newer version of Sage Intelligence. However, sage, in itself is a well-defined and justified software that takes action in terms of counter measures when any fatal error occurs in the software but due to some empowered technicalities, your software might not respond to your command. To make it functioning, see the instruction that we are mentioning below.
What is Sage 100 Intelligence Reports?
Sage 100 Intelligence Reports is a business intelligence tool that helps organizations to easily create custom reports, analyze data and make informed decisions. It is designed for businesses using Sage 100 ERP and provides powerful reporting capabilities that are built into Excel.
With Sage 100 Intelligence Reports, users can:
Create custom reports using Excel, allowing for complete control over report formatting and design
Quickly access and analyze key business data
Easily extract data from multiple sources, including Sage 100 ERP and other data sources
Build interactive dashboards and charts
Schedule and distribute reports automatically
Perform advanced analysis using Excel features such as PivotTables and PivotCharts
Read More-: How to Migrate Company Data to Sage 100 ERP
Steps for Import Export Sage 100 Intelligence Reports
To Import Sage 100 Intelligence Reports
Go to Home button, right-click on it and then click on Import Report. You can also go to tool-bar menu and click on reports.
Now, click on the reports that you need to import (the report should be with .al_ extension) and then press open.
Now, once you open Import Report window, click on the Target Connection.
Important Point: Sage MAS is among the most common used connection (Auto Connect). If you import the report in consolidated form, go to target connection drop down list, click on Sage MAS Consolidation.
Important Point: If you want to generate the report in consolidated form, you should have connector module of Sage 100 Intelligence.
Now, select Import and then select OK
From the drop-down list, click on the Report Destination folder
Now, go to toolbar menu and then select action and then click on refresh
To Export Sage 100 Intelligence Reports:
Go to the report name, right-click on it and then click on highlight the report or Export Report and then, in the Tools menu, click on Export Report.
Now, go to save Export File As window, direct to the location of your choice and then enter the file name that you want to enter.
Now, click on Save.
Now, select Ok to the message "Export Successful. To import this report…"
Still trying to understand but couldn't understand…? We have made available infinite information on our website after complete Research and Development to authenticate the credibility of information that we provide to our customers. Else, here we are to assist you with all necessary information and detail related to all Sage Version, Sage 100 Intelligence reporting.
Also Read-: Sage Report Utility
Conclusion
In conclusion, importing and exporting Sage 100 Intelligence Reports is a simple process that can be done using the Sage Intelligence Report Manager. Sage tools and features and other important add-on tools that you may need to perform accounting tasks effectively and efficiently. Our Sage Support Team is all time available to answer you via Sage 50 technical support number, Live Chat Support or via our Email support. Our Toll-Free Number 1800 964 3096 is and other connectivity platforms are available 24/7 to answer to your queries promptly.
Accounting Professionals & Specialized Experts
Want quick help from accounting software experts? Get in touch with our team members who can install, configure and configure your software for you. Proficient in fixing technical issues, they can help you quickly get back to work whenever you encounter an error in Sage software. Our team is available 24/7 365 days to assist you. To get in touch.
💠Frequently Asked Questions💠
What File format are Sage 100 Intelligence Reports exported as?
Sage 100 Intelligence Reports are exported as .xlam files.
Can I import Sage 100 Intelligence Reports from other versions of Sage 100?
Yes, you can import reports from other versions of Sage 100 as long as they are in the correct file format.
Can I export a Report and send it to someone who doesn't have Sage 100 installed?
No, the recipient will need to have Sage 100 installed in order to use the exported report.
Can I Import Reports that were created in other applications besides Sage 100?
No, you can only import reports that were created using Sage 100 Intelligence Reporting.
Related Posts: