Information About Federal 1099 Form 2017-18: Filing Requirements and Due Dates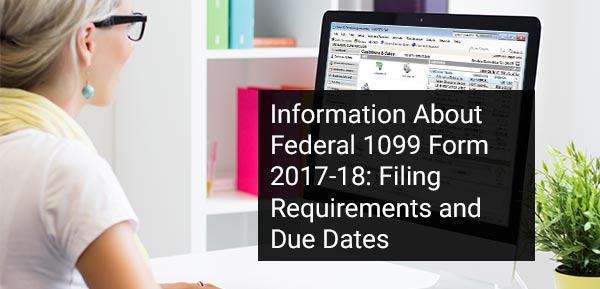 Tax filing time is coming up for the accounting world. It is important to take help from a proper channel to understand what to do and how to do. Users of Sage 50 can definitely have an edge as they have a team of experts to guide them step by step. Whether you are an individual, mid-sized company or a growing startup, it is important to file taxes on time. Sage 50 software is already creating ripples in the accounting world by making use of great features that can aid in managing inventory, cash flow and other related things in a better way. Let's discuss more about Federal 1099 Form 2017-18 to help you enjoy a stress-free life in the coming few months and throughout the year as well.
It is always good to take expert guidance from trained professionals to understand about any aspect of Sage software. However, the noteworthy part is tax filing is part of the accounting corporate world and needs to be taken seriously by every organization. Sage users can contact the Accounting Advice too. Their toll free number is .
Know About Federal 1099 Form 2017-18 and Filing Requirements
Federal Form 1099 is among the important IRS tax forms used in the United States to analyze and file an information return in order to report different kinds of income. This  income is apart from wages, salaries, and tips as for that Form W-2 is used.
The form is also for reporting payments to independent contractors, income from interest and dividends, rental property income, sales income, etc. From the IRS website,one can download both Blank 1099 forms and the related instructions.
It is mandatory to complete a Form 1099 for each covered transaction. 4 copies need to be made: one for the payer, one for the payee, one for the IRS, and one for the State Tax Department. It is important to file electronically with the IRS if you are going to file file 250 or more Form 1099 reports .
The returns must be filed by February end but copies of the returns must be sent to payees, however, by the end of January. The deadline for providing W-2 forms to employees and 1099-MISC forms to other workers for 2017 remains the same. This deadline is still January 31, 2018.
For more in-depth explanation of the Federal 1099 Form 2017-18, it is important to contact the Sage tech support team at Accounting Advice. You will be glad by the quick assistance and the experts there can divert your issues to trained professional who can take care of your issues.
What is Accounting Advice?
The Accounting Advice is a Sage 50 technical Support team of trained professionals who can not only help you with any aspect of the Sage software but are there at your assistance 24*7 in case of any tax or Federal 1099 Form 2017-18 related queries too. For a hassle-free experience and to get clarity about a number of things like filing requirements, how to do it, any error that keeps popping up on Sage software, contact the Sage customer support team. They can give you tips too in order to get your important tasks completed faster. Their toll free number is .
Related Posts:
Report Your Issue
(Didn't find what you were looking for! Report your issue and get customized help from our Sage experts.)