How to Fix Sage 50 Websync Wizard Error 524

Are you too searching rigorously online to look for an accurate and efficient solution to troubleshoot WebSync Wizard related issues and Sage 50 ID conversion? We can absolutely and completely understand how annoying it could get when you are just on the verge of completing something extremely important and your software app or the entire program stops working due to some issue.
If you do not wish to waste your precious and valuable time and also want to get back to your business again, then take a look at this blog as we shall be discussing in complete details about some of the super quick to do methods that will definitely help you to troubleshoot the WebSync Wizard issues and Sage ID conversion.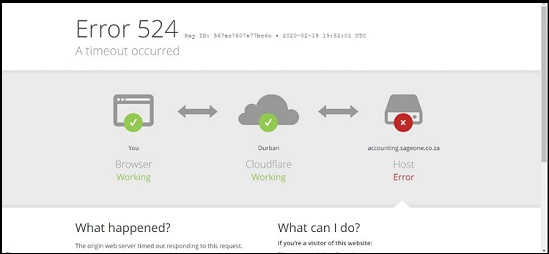 Warning Signs of Sage 50 Websync Wizard Error 524
If and when you would be encountering this specific issue, then the chances are that you would be getting all these as warning signs that you will need to pay heed to :
Almost nothing transpires the time you are trying to make an attempt to run the WebSync Wizard
No error messages would appear on your computer screen and yet you would be able to access all the other menu options that would necessitate Internet usage
The script error might come about the time you would try to look for the 'Help, What's New' option on your system
WebSync Wizard is not launching
When you are about to try to open Services, the WebSync Wizard will not be doing anything
You might also get to see a message which would also be accompanied with an error stating, "Please close all the windows before performing this task"
The list window will not be countering with data loading until further notice
Also Read: How to Fix Sage Error "Problem Initializing the Year End Wizard"
Causes of Sage ID Conversion and Sage 50 Websync Wizard Error 524
Below are two of the main reasons that can trigger this issue:
DDFs and Broken UserPref.DAT in a business directory
How to Troubleshoot Sage ID Conversion and Sage 50 Websync Wizard Error 524
Below are Some Steps to Resolve Sage 50 Websync Wizard Error 524:
Section I: When there is an Error Message Popping up on your Computer Screen Stating-What's New'- When you are Trying to Attempt to Contact Help:
Primarily, you will need to exit from all the opened files on Sage
After that, you can look through the program path. For this you will need to follow the given steps :
Press the Windows Key and E at the same time on your keyboard
Search for C:\Program Files (x86)\Common Files\Peach (C:\Program Files\Common Files\Peach on a 32 bit PC
Next, run the configuration files which depends on the version of the Sage 50 that you are using
To look for the data path, just scroll down and then search for the word 'DATAPATH='. You will find THIS in the 3rd paragraph from the bottom.
To find the program path, look for 'PROGRAMPATH=' in the 6th or 7th paragraph.
After that you need to give a new name to PTToday folder as OLDPTToday
Next, you will need to give a new name to ProductServices folder as OLDProductServices
Once done, you will need to run the Repair function
You will need to deactivate any type of anti-virus software that is installed in your system and try and attempt to install the latest release again
After that, reboot your system and then run Sage gain to ensure that it is opening without any error.
Section II: Try to Install the Sage 50 Again to a New Program Path:
The absolute best method is to make use of the latest download file the time you are trying to install the software again.
Section: Error which is followed by an error asserting, "Please close all windows…"
In this scenario, you will need to do the following given steps:
This is for inaccessible files.
You will need to close your Sage 50 software application
After that, Reboot Pervasive on the machine that you have installed the application on
Lastly, you will need to cross check if the action that you have taken is completed or not.
Section III: This is for Corrupted UserPref.Dat
Firstly, you need to exit from the impacted company
Next, search for the company data folder
After that, right click on the UserPref.Dat file and select Rename
Next, modify the file name to UserPref.Old
Once that is done, remove all the files that you can find having the extension *.DDF from the company data folder
Lastly, you will need to restart the company file and then try to carry out the anticipated task that is to check whether the changes made have been applied or not.
Related Article: How to Fixed Sage ID Conversion and Websync Wizard Issues
Final Words!
The above steps will surely helps you in fixing the Sage 50 Websync Wizard Error 524. In case you are still unable to fix the error or having some doubts regarding the error or Sage 50 accounting software, Then you must connect with our Sage help team for the instant help 24×7.
Accounting Professionals & Specialized Experts
Want quick help from accounting software experts? Get in touch with our team members who can install, configure and configure your software for you. Proficient in fixing technical issues, they can help you quickly get back to work whenever you encounter an error in Sage software. Our team is available 24/7 365 days to assist you. To get in touch.
Frequently Asked Questions(FAQs)
When Reinstalling Sage 50, will I Lose My Company File Date?
No, you won't. The company file is stored separately from the software. So even if you uninstall the software, the file is kept safe. However, we still recommend that you create a backup copy of the company file so that you can recover your data if anything goes wrong.
What do you mean by Sage 50 Websync Wizard Error 524?
Sage 50 Websync Wizard Error 524 is an error that occurs when there is a problem with the Websync Wizard in the Sage 50 software application . It can prevent users from syncing their data to external applications or cloud services.
What are the Common Causes of Sage 50 Websync Wizard Error 524?
The most common causes of Sage 50 Websync Wizard Error 524 include issues with the internet connection, outdated software, firewall or antivirus blocking the sync process, and corrupted files.
Related Posts