Sage 50 2023 1099 and 1096 Printing/efiling Changes

The Version 2020 has added 1099 integration with Aatrix, this is the program which is utilized to generate payroll tax forms, all the while also still supporting printing of 1099s using the traditional editable forms built into Sage 50. However, the Aatrix option has been made available only to payroll subscribers. Starting with the version 2023, the legacy 1099 method has been replaced in favor of producing 1099s exclusively through Aatrix. Making this to be available to anyone on a current subscription or Business Care Plan and not just for the payroll users.

For those users who are new to this method, you need to go to the Reports & Forms menu, select Forms, then Tax Forms. Within the Forms list, double click on Payroll Tax Forms. The Payroll Tax Forms selector will be launched. From here you can select from 1099-INT, 1099-K, 1099-MISC, and 1099-NEC in addition to the payroll tax forms. Now, Select the form you require, select the right year in the lower left section, then click OK. That will take you to the 1099 Setup Wizard. Now, all you need to do is answer the questions and fill out the required information about your company.
That will navigate you to the W2/1099 preparer window. Here is present a spreadsheet style window listing all 1099 vendors that met the dollar threshold. Here the are two important things to know about this window:
The light blue box located in the upper left corner offers step by step instructions to walk you through the verification of your information.
If you possess more than one type 1099 vendor, generally both being NEC and MISC, check the list of recipients thoroughly. You might discover that both sets of recipients have been pulled into the list and you will have to delete the ones that do not belong. Deleting is done similarly like you would in Excel. Right click on the row number you wish to delete and select Remove Row.
Once you are ready to print, you will have two options. You can either print your own forms along with optional e-filing or you can use Aatrix's Complete eFile Service aswell.
It is recommended to complete the efile service. For $3.10 per recipient. This can be less if you are already an eFile subscriber. Aatrix will print, mail, and eFile your 1099s. Minimum charge is $14.95. In case you only have a few 1099s, that will most likely be lower than the cost of forms, envelopes, and postage to print them yourself. You do require an Aatrix login; in case you don't already have one. Next you will be prompted to set one up.
In case you wish to print your own forms, you will require a traditional 3-per-page red forms for the IRS copy and 1096. The Recipient copies are formatted for blank 4-Up forms. The payer copy can be printed within plain paper. Even when you are printing your own forms you can still eFile through Aatrix, if required, for less than the price of the complete service. This will still be a $14.95 minimum charge.
Individuals using version 2022 or older can still print 1099 forms using the legacy form printing, but the formats will not be updated. So you will are responsible for updating the layout yourself using the built in form designer.
Regardless of the method you use to prepare your 1099s, the 1099 Vendor Report is still considered the best tool to ensure you are getting the right recipients and amounts.
Read More-: Sage 50 Peachtree 1099 E-File
Changes to 1099 and 1096 Printing/efiling in Release 2023
Beginning with the release of 2023.0, the older method of printing 1099 and 1096 forms from the Forms menu is no longer possible, as it is not available. However, the good news is that all customers with an active plan will be able to access 1099/1096 forms via Aatrix to stay compliant with the latest tax form updates. Check out the table below for changes and how this will be applicable to you.
For more details on printing 1099-K forms, see 1099-K related changes in Sage 50 Release 2023.
Note: 1099-K forms can be printed from Release 2022 if you have subscribed to the tax service. However, the details on the forms will be required to be entered manually as the program does not have setup fields for 1099-K. In order to make sure of compliance, upgrade to Release 2023, as this also includes setup fields for 1099-K.
Sage Customer Support does not offers assistance for problems related to any third party products or enhancements, hardware, report customizations, state or federal tax-related questions, or specific accounting questions. For this it is advised to contact your Sage business partner, network administrator, or accountant for assistance. Also review this document for additional information on the scope of Sage Customer Support Services.
Solution
Sage 50 2022.x and Earlier Versions

Sage 50 2022.x and Earlier Versions

Required Forms and Customer plans

Print 1099/1096 forms to pre-printed forms from Sage 50 (old method)

All customers with or without an active plan

N/A

Print 1099/1096 forms from Aatrix

All customers with an active plan with payroll

All customers with an active plan, with or without payroll

Note: You will need to purchase an Aatrix efile plan from Sage to use the Aatrix efile capabilities or use the Information Return Intake System (IRIS) with the IRS to efile manually.
1099/1096 Forms Needed to Print from Aatrix
| | | | | |
| --- | --- | --- | --- | --- |
| Form Type | Federal 1099 | Federal 1096 | Payer, Recipient, and State** | Instructions*** |
| eFile 1099-NEC | Record Copy (plain paper) | Record Copy (plain paper) | Blank Perforated 4-Part (4-up) without backer | Plain paper |
| Printed 1099-NEC | Red Pre-Printed Form (3-up)* | Red Pre-Printed Form | Blank Perforated 4-Part (4-up) without backer | Plain paper |
| eFile 1099-Misc | Record Copy (plain paper) | Record Copy (plain paper) | Blank Perforated 4-Part (4-up) without backer | Plain paper |
| Printed 1099-Misc | Red Pre-Printed Form (2-up) | Red Pre-Printed Form | Blank Perforated 4-Part (4-up) without backer | Plain paper |
| eFile 1099-INT | Record Copy (plain paper) | Record Copy (plain paper) | Blank Perforated 4-Part (4-up) without backer | Plain paper |
| Printed 1099-INT | Red Pre-Printed Form (2-up) | Red Pre-Printed Form | Blank Perforated 4-Part (4-up) without backer | Plain paper |
| eFile 1099-K | Record Copy (plain paper) | Record Copy (plain paper) | Blank Perforated 4-Part (4-up) without backer | Plain paper |
| Printed 1099-K | Red Pre-Printed Form (2-up) | Red Pre-Printed Form | Blank Perforated 4-Part (4-up) without backer | Plain paper |
1099-K Related Changes in Sage 50 Release 2023
The Form 1099-K is a tax form that needs to be filed with an individual tax return for payments received through a third party network, like. Venmo, Paypal, Amazon, or credit/debit card transactions. Beginning in 2022, the payee needs to be issued a 1099-K if the service processes more than $600 worth of payments irrespective of the number of individual payments or transactions. Before 2022, the minimum threshold for issuing a 1099-K was $20,000. However, now that more small businesses will be receiving 1099-Ks, Sage 50 US 2023.0 will accommodate the change by allowing applicable customers to generate and e-file 1099-Ks through Aatrix. With the Release 2023.0, the 1099-K/1096 along with all other 1099 form types will only be accessible through Aatrix. The Sage 50 US In-Product and Custom 1099 forms are no longer available and are in fact hidden in the Forms Listview.
Changes in Release 2023.0
The 1099 Settings within the Vendor Maintenance window now includes an option for 1099-K Card and Network Transactions
The 1099 Settings field for Chart of Accounts Import/Export now comprises of the value of 14 for 1099-K
The [NEW1099] section of the 1099info.Dat file now utilises Label 14 for 1099-K and Label 15 for None
The 1099 Type field on the 1099 Vendor Report has been upgraded to include 1099-K
The Aatrix 1099 Forms will now comprise of an option to create and e-file a 1099-K form
The Sage 50 Help has been upgraded to reference 1099-K where applicable.
The Solution
1099 Settings in Vendor Maintenance
The 1099 Settings within Vendor Maintenance has been updated to include the option for 1099-K when creating 1099 Vendors with a type of Independent Contractor.
The 1099 Vendor Report
The Accounts Payable 1099 Vendor Report for Sage 50 US has been updated to include reference to the 1099-K Form. The 1099 Type field is now available as Misc/NEC/K. Additionally, the report will show 1099-K transactions. Nevertheless, the 1099 Box, Box Description, and Limit Met fields are blank when recording 1099-K transactions within the report.In the example below, the Vendor had a 1099-K and 1099-NEC payment. Note the 1099 Type change and that a majority of the fields are blank in case of the 1099-K transaction. Additionally, a transaction for a Vendor that has not met the $600 threshold will still display within the report.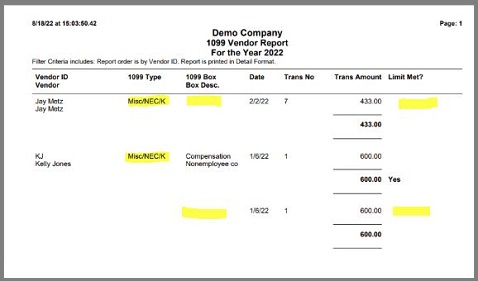 Aatrix 1099-K and 1096 Form
Beginning in tax year 2022, Aatrix will offer the 1099-K and 1096 forms for those Sage 50 US customers who have paid the Vendors using credit, debit, store value cards, and also network transactions. All 1099 forms will be offered through Aatrix for Sage 50 US customers on a Sage plan, irrespective of whether you have a Payroll plan or not.
Presently, the 1099-K and the accompanied 1096 form are only available from Aatrix in test mode. Once the Aatrix has the 1099-K forms in Production, they will become available to all the users.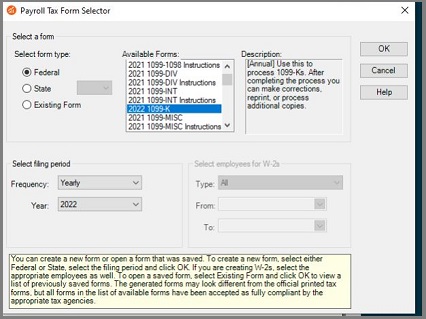 Any transaction that has been tagged as a 1099-K Payment will be displayed in the W2/1099 Preparer regardless if the $600 minimum is met; and, Aatrix does not accept negative values. It is within this window, where you can modify od delete the data in order to acquire all the correct 1099-Ks for a particular Vendor.
The payment details that populates from Sage 50 US is:
Box 1a- Gross amount of payment
Box 3- Number of payment transactions
Box 5a-5l-Monthly gross transactions
Box 6- Filing State
Aatrix will also offer the 1099-K Copy C for the Filer, 1099=K Copy A for the IRS, and the 1096 form as a summary. These documents can be printed or e-filed as required.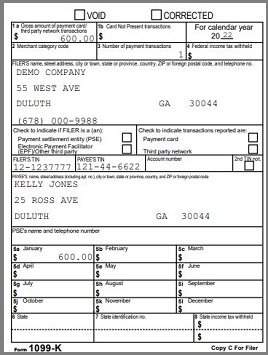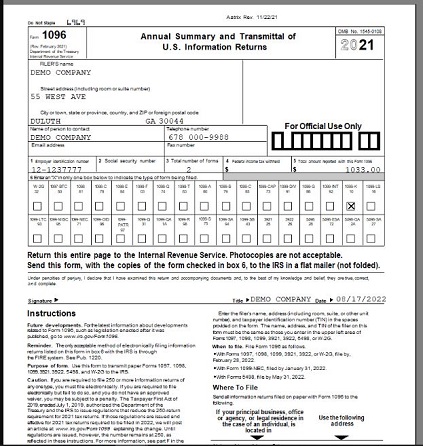 Chart of Accounts Import/Export
With the addition of the 1099 Setting included to accommodate for 1099-K, the Chart of Accounts Import/Export was slightly changed. The value of 14 was added within the 1099 Settings field if 1099-K is being utilized for the Import/Export.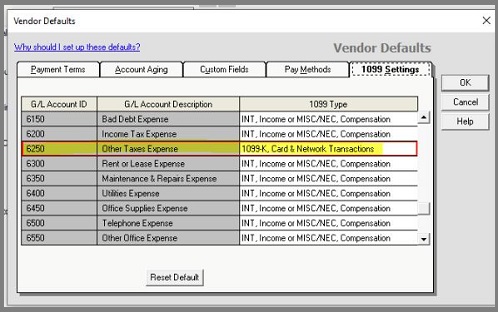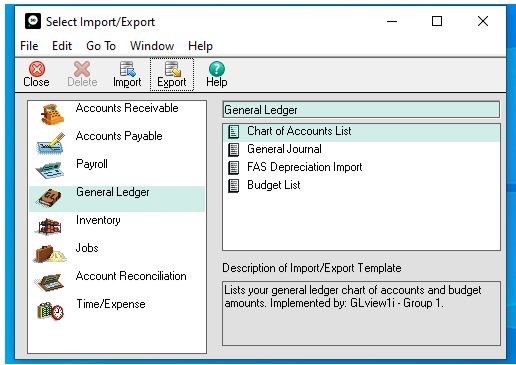 Also Read-: Accounts Payable in Sage 50 2015 for 1099 Correction
Conclusion
So, tere you have it friends, this is all that we have at the moment for Sage 50 2023 1099 and 1096 Printing/efiling Changes. However, if you still continue to have doubts regarding the same, be free to reach out to us at [email protected] . or visit us at www.accountingadvice.co. and our team of experts will be more than happy to help you out.
Accounting Professionals & Specialized Experts
Want quick help from accounting software experts? Get in touch with our team members who can install, configure and configure your software for you. Proficient in fixing technical issues, they can help you quickly get back to work whenever you encounter an error in Sage software. Our team is available 24/7 365 days to assist you. To get in touch.
Frequently Asked Questions(FAQs)
How to Print 1096 in Sage?
In order to print 1096 in Sage you need to follow the below steps:
🔹 Open Accounts Payable 
🔹 A/P Vendor Reports 
🔹 Print 1099/1096 Forms.
1. In case you are printing 1096 forms, click select the check boxes for the following options, as required::
🔹 Preaddressed Form. Choose this option if you are using preprinted forms that already include the address, this is so that the program does not print the address.
🔹 Final Filing. Click Select this option in case you do not need to file Forms 1099, 1098, 5498 or W-2G in the future.
2. Enter the details with in the following fields and controls:
🔹 Form. Specify if you are printing 1099 or 1096 forms.
🔹 For Tax Year you need to Specify the year for which you want to report 1099 data.
🔹 Use Form.This field automatically displays the default RPT file for the forms that have been specified. Generally, you should not change this file.
🔹 From/To Vendor Number. Specify the range of vendors for which to print 1099 data.
3. Enter the payer details that include the name, address, phone number, and tax number of your company.
In case you are printing 1096 forms:
🔹 Within the Type field, you need to specify the type of tax number you are using, this includes your Employer ID Number or Social Security Number.
🔹 Enter an optional contact name and email address.
4. In case your company is not in the U.S., select the Foreign Entity option.
5. In order to print a test copy of a 1099 or 1096 form to check the alignment of the forms in your printer, you need to click Align.
You can repeat the step as often as required when the printing destination is set to Printer.
6. Click Print.
🔹 In case you are printing to a physical printer, the Print window is displayed. Confirm your printer choices and the number of copies to print, and then click OK. Or, click Cancel or Setup.
🔹 In case you are printing to the screen or preview, the report is displayed with in a new window. You can print the report or export it to a file.
Note: For Web-based clients, the preview screen appears before you click the Print button.
🔹 In case you are printing to a file, the Export window appears. Specify the file format (for example, PDF, DOC, or XLS). Also you need to specify a destination for the file:
🔹 Application. Check the report in an application that can open files of the specified format. For example, if you specify PDF as the file format, the report opens in Adobe Acrobat. You can then save the file.
🔹 Disk file. Save the report to a location specified by you..
🔹 Microsoft Mail. Send the report as an e-mail attachment.
🔹 One can enter the name of a non-existent file or directory to be created by the system when you print. Once you print to a file, the report is assigned a unique name, something like: CS1000.TXT.
🔹 In case you are printing to email, an e-mail message is displayed with the report attached.
🔹 In case you want to use the same settings the next time you print these forms, click Settings > Save Settings As Defaults.
Can the Prior Year 1099 be Corrected?
There is no specific deadline to file a 1099 tax form correction. The IRS generally prefers for 1099 tax forms to be corrected within three years of their initial filing date. The reason being that there is a three year window to amend your personal tax return and collect a refund from a rectified 1099 tax form.
How to Print 1099?
For this simply open up the Form 1099-NEC from the IRS website, and start filling it in on your browser. If you have Already downloaded the form, You can open it in a browser by right-clicking on the file and selecting "Open with. Once the details have been filled out , you can print the document similarly as you would any other file.
Related Posts: